November 2023
BURN Manufacturing (BURN), the world's leading clean cookstove manufacturer, distributor, and carbon-offset project developer, announces the issuance of Sub- Saharan Africa's first-ever green bond designated for clean cooking financing of USD $10 Million. This green bond will enable Burn to expand manufacturing operations, increasing production from 400,000 to 600,000 life-saving biomass, electric, and LPG stoves per month. These funds will benefit an additional two million households by 2024, driving positive environmental and social change.
Dry Associates Investment Bank is proud to be the Transaction Advisor on BURN's Green Bond programme. The Green Bond programme underscores the opportunities available for fixed-income investments in Kenya to catalyze capital formation, employment, and economic growth. We are attracted to BURN for the leadership team's focus, green finance acumen and the scale and professionalism of BURN's manufacturing operation in Kenya. BURN's export growth story is a stellar example that Kenya can indeed deliver quality to the world.
The notes have been issued by way of private offer to a select group of institutional and qualified investors in accordance with Regulation 21 of the Capital Markets (Securities) (Public Offers Listings and Disclosures) Regulations, 2002 Amended 2016. An Information Notice has been provided to the Capital Markets Authority.
August 2023
Dry Associates officially launched the Burn Manufacturing USA LLC Medium Term Note program on August 3, 2023. The US Dollar 5 million BBB+ credit rated program offers one- and two-year notes at 10% and 12.50% respectively.
Burn Manufacturing has produced over 3.8 million cookstoves across 20 countries in Sub Saharan African and Asia. The Company has brought new green technology to market with a range of fuel-efficient stoves. The wood burning stove reduces wood consumption 71% versus an open fire. The charcoal stove has a 39% reduced consumption of charcoal over other charcoal stoves. Overall, 3-5 tons of CO2 emissions have been avoided per year with each type of stove. The Company has also introduced electric stoves that are 85% thermally efficient.
"August 3, 2023 – Burn Manufacturing presentation to prospective investors at the Shamba Café Events venue."
July 2023
Dry Associates Investment Bank, the fund manager and sponsor of the Dry Associates Personal Provident Fund (DAPPP), is pleased to announce that the Retirement Benefits Authority (RBA) has approved the fund to "opt out" of Tier II National Social Security Fund (NSSF) contribution.
In February 2023, Parliament passed legislation increasing an employee's statutory NSSF contribution rate from KES 200/= per month to 6% of the employee's pensionable earnings subject to an upper limit of KES 2,160/= per month in the first year. In addition, an employer must also contribute an additional 6% on behalf of each employee. Subsequent years' contributions are calculated per provisions in the Act.
This certification from the RBA means that DAPPP members can continue to receive the professional fund management and superior returns that DAPPP has delivered over the past six years. The annual return of the National Social Security Fund for the year ended June 2022 was negative KES 3.15 billion.
June 2023
Watu (Kenya) is a first mover in the 2 and 3-wheel boda boda financing sector. We arranged and placed a Kenya Shilling KES 1 billion BBB-rated secured programme for Watu (Kenya) in 2021. It was increased to KES 2 billion in 2022 and fully placed. In
June 2023, Watu (Uganda) came to market with a US Dollar 5 million short term programme which has been well received.
Watu Credit presents a unique high growth impact financing opportunity for Africa's unbanked and underserved population at the bottom of the pyramid (BoP). The Watu business model was fundamentally predicated on finding "new space" within the African microfinance and unbanked BoP population. Lending to this sector has been significantly facilitated by the penetration of mobile telephones and mobile money which, apart from facilitating payments, provide data history on clients. Watu rides on this to provide secured lending on assets which the borrowers treat as economic assets which empower the asset owner. Funding for these assets was hitherto informal with ownership remaining in the hands of third parties. Watu funded assets provide both ownership and livelihoods to its clients at lower cost. Therefore, the model presents an asymmetric risk return profile.
January 2023
Mogo Auto, one of Kenya's largest lenders in the vehicle (car and motorcycle) sector, originally came to market in August 2022 with a KES 1 billion issue. This A-rated secured note programme was increased to KES 2 billion in January 2023.
Mogo Auto Kenya is part of Eleving Group, an international FinTech company operating in 15 countries on three continents. Mogo provides affordable financing options for used cars, logbook loans, Boda Boda and Tuk Tuk loans.
The company is a world-class financial company that specializes in used cars and new Boda Boda financing in Kenya. Mogo also offers logbook loans to its potential customers conveniently, quickly, and easily. MOGO rapidly processes the loan request within 24 hours and provides a long-term repayment period that can last for up to 60 months. The company is on a mission to provide convenient financing services for its customers.
Recent News
April 2020
As We Move Through The Covid 19 Pandemic, We Wanted To Touch Base With You, Our Investors, To Share Some Thoughts During These Trying Times.  However, Before We Get To Investment Matters, Here's A Few Housekeeping Notes.
Business Operations
Dry Associates is fully operational as per our usual operational working hours (8:30am to 5:30pm) even though approximately half of our employees are working from home. On the private client side of the business, our Portfolio Managers and Senior Investment Executives continue to work from the office daily as per normal, while other Investment Executives/Relationship Managers have access and full connectivity via VPNs (Virtual Personal Networks), so that they can continue to work as normal from the safety of their homes. Through VPN your Relationship Manager continues to have access to all Dry Associates' functionality including preparing Investment Advices and Transaction Confirmations, sending of fact sheets, providing quotations, and of course, reading and responding to your email inquiries sent to them at their Dry Associates email address. Please continue to correspond with your Relationship Manager as usual during these unprecedented times.
If you feel it is necessary to meet with your Relationship Manager face to face to discuss investment decisions or perhaps to sign documents, this can be arranged. You will find all our staff masked and sanitizers kila mahali. We kindly request that you wear a mask and observe a safe distance between yourself and your Relationship Manager.
Keeping Perspective
Regarding investment advice, in general, we do not suggest selling anything. Leaving your investments alone is fine. Adding to your investments over the next three to six months is even better if you have liquidity. There will be a massive transfer of wealth as a result of this crisis. Those who have sold in panic will regret it when this is over. No one knows, however, where the bottom is so the best course of action for equity investors is to "dollar (shilling) cost averaging". This simply means adding to your equity portfolio periodically perhaps in equal parts over the next 3, 4, 5 or 6 months.
Of particular interest for those investors who find themselves sitting on cash in the current environment, would be the Dry Associates Balanced Fund – which is slowly exiting fixed income securities in favour of building its equity position and this fund should be well poised to take advantage of rising share prices – given the NSE is at a 15 year low.
For those investors more focused on international markets/ hard currency options, many of the Franklin Templeton equity funds, are trading at a significant discount and there is surely a great number of buying opportunities to be had at present. Please consult your Relationship Manager for appropriate suggestions based on your individual risk tolerances.
Recovery Scenarios
There are numerous scenarios about how the world economy will recover from this pandemic. Perhaps the two extremes are a V-shaped recovery and an L-shaped recovery. The V scenario envisions a 2 – 3-month recovery with everyone back to work powered by low petrol prices, low interest rates, billions of dollars of central bank quantitative easing and stock markets that quickly recoup their losses and more. On the other hand, the L shaped scenario envisions a 1 – 2-year recovery with unemployment in developed economies hitting 20%+ leading to a lengthy global recession.
While no one knows how long it will take to recover, it seems to us that most businesses – other than certain businesses that rely on close social interaction such as travel, tourism and hospitality businesses – will be able to survive a 3 – 4-month partial shutdown. Any longer would be economic suicide. Interestingly, the medical profession is telling us that a vaccine will be available in a year or two – this is due to most government medical bodies having to sufficiently test the vaccines before human trials and subsequent release for purchase and distribution. As economist George Friedman recently suggested, that's a medical solution but not an economic solution. A year to two is certainly too long for any business or economy to operate under lock down. Besides, Friedman suggests, social distancing, lock downs and isolation have their human limits. Beyond three months or so, economies will falter, and poverty becomes the greater threat.
And so, we believe some compromise will have to be found to keep economies alive. Maybe it will be in antibody profiling, new medical treatments, quantitative easing, but in the end, employees will return to work and economies will revive.
In the meantime, please stay in touch with your Relationship Manager, stay safe and healthy as we work our way through this global pandemic.
---
November 2017
Dry Associates Wins Individual Pension Plan Of The Year Award 2017
The Dry Associates Provident Pension Plan (DAPPP) has won the Individual Pension Plan of the Year 2017, organized by the Institute of Pension Management at a gala event held at the Radisson Blu on 10th November 2017. The category of the award was Best Managed Individual Pension Plan. We are delighted to have received this acknowledgment since DAPPP was just started in 2013 and this is the inaugural awarding year.
Our pension plan was judged on a number of criteria: Investment Management (governance structure, scheme performance, and investment strategies), Member Services (education, communication, satisfaction and feedback, retirement preparation), Fees (efficiency of fund management and administration cost), Fund Administration (record keeping and service standards for members) and Board of Trustees (skill sets of trustees, trustee oversight, service providers review timelines and frequencies).
In terms of performance, the DAPPP returned 12.6% in 2016, 11.01% in 2015 and 14.96% in 2014. The market average returns for pension schemes in Kenya in 2016 was 6.3% (Source: Alexander Forbes Financial Services (EA) Limited (AFCASS) Schemes survey). This impressive return can be attributed to the sound investment strategies put in place by the highly experienced Investment Committee at Dry Associates.
DAPPP has been recognized as a top-tier pension plan and you can feel confident that your retirement savings are being managed prudently and profitably.
We invite both individuals and corporations to come and meet with our Pensions Department. For both individuals and staff of corporates, joining DAPPP is a simple process through a 1-page application form. For corporates, there is no entrance/ management/ exit fees and the employer can choose whether or not to contribute to the scheme.
Please contact our Pension Department and book your appointment today.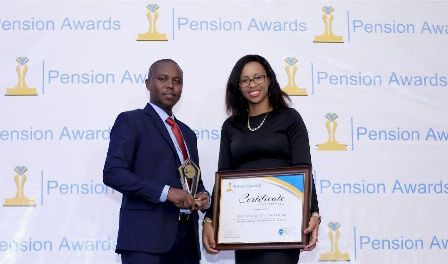 ---
November 2017
Strong Financial Results For June 2017
Despite a tough investment landscape in 2017, Dry Associates has exhibited strong overall financial performance in the first half of 2017 – a testament to the company's continuing popularity as a corporate financier of choice and private wealth manager for both individual and corporate clients.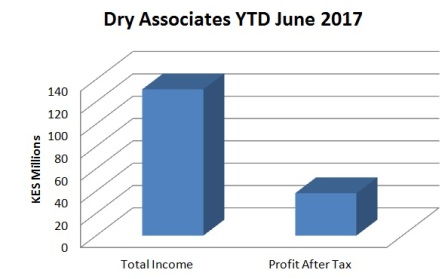 The company's turnover was KES 131 million for the first six months of 2017 supported by wealth management, corporate finance including arrangement and placement of several 5-year bonds, and growth in its fund management business, particularly through the newly launched Unit Trusts.
For the remainder of 2017 and into early 2018, the company is focusing on growing its wealth management business, with particular emphasis on off-shore investment opportunities through Franklin Templeton's equity and fixed income funds. Franklin Templeton offers a wide range of funds across global geographies and sectors from which clients select funds that meet their objectives and risk profiles. The company also continues to grow its Pension and Unit Trust business lines, with the Pensions Department recently awarded the annual Individual Pension Plan of the Year by the Institute of Pension Management at a gala event held at the Radisson Blu on 10 th November 2017.
The company earned KES 38 million in profit after tax, ranking 4 th amongst the 26 fund managers in Kenya and illustrating the company's continuing commitment to serving their clients.
You can rely on Dry Associates to raise the corporate finance you need for your company and also to manage your and your company's wealth. Please contact our offices today for any enquiries.
---
October 2017
Dry Associates Money Market (KES) Fund (Unit Trust) Takes Off
Since its inception in July 2016, the Dry Associates Money Market Fund (KES) has rapidly become a market leader among money market funds available in Kenya. The fund currently outperforms the average money market fund interest rate, the average bank deposit rate and the 91-day treasury bill rate (see graph). At the end of Q3 2017, the fund was paying a 9.73 % yield.
Apart from offering a strong yield, the fund's assets under management (AUM) have grown steadily and rapidly – a strong testament to the fund's popularity amongst both retail and corporate clients.
Both the strong yield and the growth of AUM reflect the unique and sound investment strategy of our experienced Investment Committee. Our Investment Committee ensures that the fund is continually invested in a broad range of asset classes, ensuring risk diversification over a range of tenors so that the liquidity of the fund is maintained.
In addition, our operations team also ensures that any purchases and redemptions of units for clients are done rapidly, maintaining excellent client service.
If you are looking for a unique investment that provides both safety and income, we invite you to invest in our Money Market Fund (KES) with a minimum investment of KES 1,000,000. Please contact your Investment Executive or the Dry Associates office and we will be pleased to discuss the Kenya Shilling Money Market Fund as well as our US Dollar Money Market Fund and Kenya Shilling Balanced Fund.
---
16 December 2016
GardaWorld (Kenya) Ltd Launches KES 1.8 Billion 5-Year Medium Term Note Program
Dry Associates have arranged and placed KES 442 million in the first tranche of a KES 1.8 billion 5-year private note program for GardaWorld (Kenya) Ltd.

GardaWorld (Kenya) Ltd is a subsidiary of GardaWorld Security Corporation, the world's largest privately owned security company. GardaWorld (Kenya) recently acquired 100% of Nairobi-based Kenya Kazi Ltd ("KK Security").These 5-year notes will be used to retire KK Security's short term commercial paper program and overdraft facilities, among other forms of financing.
Kaplan & Stratton provided the legal counsel and PricewaterhouseCoopers acted as the reporting accountant for this private issue.Image Registrars Ltd and Ropat Trustee Company Ltd are the registrars and trustees, respectively.
These 5-year notes have been credit rated BBB by the Global Credit Ratings Company (GCR) and carry a 15% KES coupon and a 6.5% USD coupon.
The second tranche of 5-year notes will be issued in mid-June 2017.
---
November 2016
Dry Associates Passes Market-Certification Examinations!
Dry Associates investment advisory team did remarkably well in the recently sat examination, International Introduction to Securities and Investments (Kenya) offered by the Chartered Institute of Securities and Investment. There were 13 candidates and all 13 passed the exam on the first sitting. In fact, our General Manager was 1 point short of scoring 100% (59/60); just beating the Managing Director who scored 58/60. In order to acknowledge these excellent results, we had a well attended in-house party on 19 th October.
This market certification is an initiative by the Capital Markets Authority (CMA) to ensure that investment advisors have the right knowledge required to advise investors on how to manage their assets. Stage two of the certification will be another examination, "Regulation and Market Practice", which will have to be sat before August 21 st 2017.
In light of the excellent results, investors can rest assured that Dry Associates offers the best investment advice in the market place. We look forward to assisting you manage your portfolio, either at the individual or corporate-level, please book an appointment with us today.
---
February 2016
New Commercial Paper Program With RMA Motors (Kenya) Ltd. (Jaguar Land Rover)
In February 2016, RMA Motors (Kenya) Ltd partnered with Dry Associates to launch a USD 6 Million commercial paper program. The program is guaranteed by Clipper Holdings, the parent company of RMA Motors (Kenya) Ltd.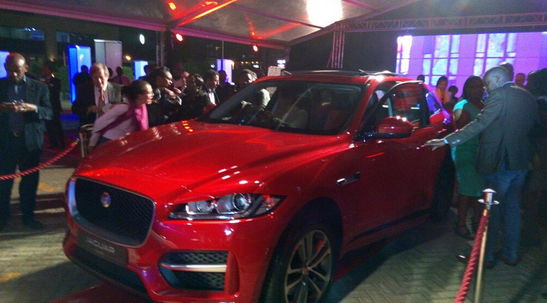 RMA Motors (Kenya) Ltd was established in 2013, with headquarters in Nairobi, and specializes in automobiles, both passenger and commercial vehicles. More specifically, RMA Kenya is the authorized dealer for Jaguar Land Rover and offers sales, service and spare parts for these vehicles. In July 2016, RMA Motors (Kenya) Ltd launched its first sports utility vehicle (SUV) in Kenya, the Jaguar F-Pace, at an exclusive event held at its headquarters. At the well-attended event, the Jaguars were driven down a catwalk to the tune of Kenyan and Indian music; with guests having an opportunity to assess the Jaguars at close hand (see photo below).
With the RMA Motors (Kenya) Ltd partnership, Dry Associates has added a top-range company within the automobile sector to its range of companies for which it has commercial paper programs. To learn more about investing in this or other commercial paper programs, please contact us at Dry Associates. We look forward to developing your investment portfolio through investments in some of the best-known companies in Kenya and the region.
---
26th October 2015
Dry Associates 3rd Quarter 2015 Turnover Up 58%
Dry Associates third quarter 2015 unaudited financial results (Jan – Sep 2015) show turnover of KES 204 million versus KEC 189 million for the same period in 2014 representing a 58% increase.
The company's financial results reflect an increase in turnover in every revenue category including offshore funds, pension funds, and most impressively brokerage fees for placement of fixed income securities. The increase in placement fees for fixed income securities can be attributed to some extent to the very favorable interest rates on offer in Kenya during the 3rd quarter.
Interest rates have risen over the past several months in response to the Central Bank of Kenya's tightening money policy. This tightening is in response to a 15% depreciation of the Kenya Shilling to the US Dollar over the prior year. This depreciation also comes in the wake of a widening Government of Kenya domestic budget deficit. Consequently, the presence of the GOK in competition for funds with the private sector combined with the need to prop up the Kenya shilling exchange rate has resulted in the average 91-day Treasury bill yield rising to 22% per annum. Based on historical interest rates, these rates are attractive to investors resulting in increased take up of fixed income securities by Dry Associates clients.
The Company's 3rd quarter 2015 after tax profit is KES 64.5 million versus KES 34.3 million for the same period in 2014 representing an 88% increase.
---
14th October 2015
500 Million Short-Term Note For ASL Limited Brought To Market!
In August 2015, Dry Associates Ltd arranged and placed a 500 Million Short-Term Note for ASL Limited, part of the RAMCO Group of Companies.
ASL Limited, formerly known as Associated Steel Limited, was incorporated in 1976 and comprises of 4 divisions: Trading, Steel, Heavy Fabrication and Wire & Cables. The Trading Division is the largest building materials supplier in East Africa; while, the Steel Division holds one of the largest stocks of stainless steel in Kenya. The Heavy Fabrication Division provides industrial-scale stainless steel to a number of sectors; and the Wire & Cables Division manufactures cables for homes, factories and offices.
With this most recent private offering, Dry Associates Ltd continues the tradition of being the most active arranger and placer of commercial paper in Eastern Africa. To date, Dry Associates has issued commercial paper for over 21 companies operating in diverse sectors such as mining, automobile, retail, security, microfinance, hotels and banking. For more information on our current commercial paper offerings or to discuss arranging commercial paper for your company, please do not hesitate to contact us at Dry Associates Ltd.
---
17th September 2015
Dry Associates Gets Approval For Unit Trusts!
On September 4, 2015, Dry Associates Limited reached another milestone, obtaining approval for the registration of Unit Trusts with the Capital Markets Authority (CMA) of Kenya!
Unit Trusts are collective financial funds that allow the public to pool their money in a single fund, thus spreading their risk across a range of investments, getting the benefit of professional fund management and reducing their dealing costs.
Dry Associates Limited will offer 3 different Unit Trusts; namely, the Dry Associates Money Market Fund (denominated in Kenya Shillings), Dry Associates Money Market Fund (denominated in US Dollars) and Dry Associates Balanced Fund (denominated in Kenya Shillings). The emphasis of the Money Market Funds will be on safety and high income; the emphasis of the Balanced Fund will be on capital appreciation. The geographical location of these funds will primarily be Kenya and the East African community.
With over 20 years of investment management experience, these Unit Trusts managed by Dry Associates will offer highly competitive market returns. Dry Associates looks forward to bringing these new products to market.